"My online bookings have more than doubled since I switched from Webervations to the RezOvation Booking Engine. Guests who want online reservations now have that option, plus we have more time to help guests who prefer to phone us."
– Leslie Adkins, Inverness Valley Inn, Inverness, CA
"I switched from Webervations to the RezOvation Booking Engine. Virtually overnight I received three times more online reservations compared to Webervations!
I spend more time with my guests now that I don't have to spend so much time taking phonereservations. I just wish I had done it sooner now that I know how much revenue I was turning away."
– Phil Cunniffe, The Hearthstone Lodge
"I love the way the RezOvation Booking Engine saves me time and money by taking the reservation, sending the confirmation, and processing the credit card. More importantly, I don't have to worry about overbooking, because it's a real-time reservation. It's like having an extra employee."
- Nida, Wishing Well Bed & Breakfast, Sedona, AZ
Increase your occupancy with real-time reservations, right from your website or Facebook. Power it with the RezOvation Booking Engine included in RezOvation Web!

Let your guests book the way they prefer — on-line or over the phone. Potential guests can make confirmed online reservations 24 hours a day, 365 days a year! RezOvation Web takes reservations any time of the day or night with a two-way real-time link on your website directly to your property information, room rates and availability. Get unlimited reservations starting at just $73 per month.
In addition to powering bookings made on your own website, advertise your Inn to millions of potential travelers and take more reservations online by seamlessly integrating with BedandBreakfast.com online merchant program using a free booking link on your BedandBreakfast.com listing. RezOvation Web also synchronizes your property information, room rates and availability calendar with other Internet reservation sites such as TripAdvisor TripConnect, Expedia and Hotels.com with our optional Global Distribution System (GDS) integration. RezOvation Web manages all your Internet reservation needs with one comprehensive solution. Our Booking Engine is state of the art and clearly demonstrates why RezOvation is the leader in providing Innkeeper software.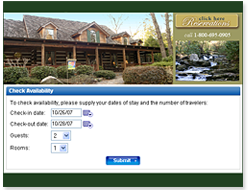 Why Offer Real-Time Online Reservations?
To increase your occupancy percentages. It's as though you hired reservationists available 24/7!
To supply travelers with what they prefer, the convenience of making reservations online
To get a competitive advantage over businesses that do not offer online reservations.
RezOvation Booking Engine Features:
Low flat rate pricing starting at $73 per month.
Display availability by individual units or room types.
Guests can reserve multiple units at one time.
Option to sell packages or add-ons
Manage gift certificate creation and redemption.
Charge deposit payments for guest reservations and automatically transfer funds to bank accounts.
Customize guest confirmation letters and guest invoices.
Seamless direct link to the BedandBreakfast.com Online Reservations Program, which allows you to take reservations through BedandBreakfast.com, Expedia, Hotels.com, Sidestep, Kayak, and many other sites.
Two-way GDS link that integrates to the Global Distribution System network.
Full integration with Google Analytics, Google Adwords, and other statistics tracking applications.
Synchronize availability and allow direct bookings with TripAdvisor TripConnect
Property Website Demo
The property website demo will show you what guests will experience when they make a reservation via your website.
View how RezOvation Web integrates with your website >>
Learn more about our website partner Vacation Storebuilder >>
More Information
RezOvation Booking Engine Demo Video


---
Flat-rate pricing for unlimited bookings starting at just $73 a month!
Click here for more details.
---
The RezOvation iPhone App lets you take reservations on the go!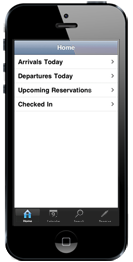 ---
View a demonstration of the RezOvation Booking Engine.